Will It Your Way Inc.® was established and run by Kay Catanzariti in July 2013.
In 2015 Will It Your Way Inc. is a registered Charity with the ACNC under the subtype of: Advancing education.
We are also now proud to be affiliated with the DonateLife Community Partner Program.
My name is Kay Catanzariti and I am the proud founder of an initiative to encourage young and mature Australians to obtain a legally binding Will/Estate Plan. Ask your parents/carers have they got a Will?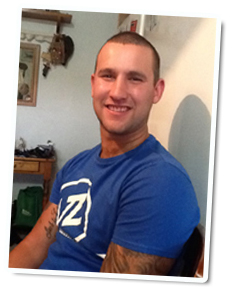 Kay's drive for Will It Your Way is her son Ben who was tragically killed suddenly in 2012 at Kingston ACT Australia in a workplace incident at the age of 21. When a 39 metre concrete pouring boom collapsed on top of him. While tragic, her experiences have inspired her to make young Australian adults aware of the importance of making a legally binding Will/ Estate Plan as soon as they turn 18 years of age.
I'll try and make it short as Ben would always say "come on mum I've got things to do".
My goal is to encourage as many young Australians as possible, to be aware of the importance of making a legally binding WILL/ESTATE PLAN at the age of 18.
With the hope in the near future each Education Minister in their State or Territory will include making a legally binding WILL in the curriculum. Just like obtaining a white card in year 10.
It's all about educating and awareness and leading the next generation towards being responsible for and taking control of their adult life.
When tragedy hits a family, like it did mine, the lack of a legally binding Will/ Estate Plan for the young person can cause unnecessary grief in a time of emotion turmoil.
My goal is for young people (when they sign up for an apprenticeship, go to University, start full time work or travel the world) to have a legally binding Will/Estate Plan.
My plan of attack has been contacting schools, TAFE's and universities right across Australia promoting Will It Your Way and encouraging their students/employees to have a Will/Estate Plan. Next I'll be contacting Multi-National Companies, Insurances Companies, Financial Institutes and Road Traffic Authorities etc encouraging the same.
Between the age of 18 and 25 most young adults enjoy life to it's fullest and try thrill seeking experiences and have on and off relationships. Sudden deaths do unfortunately occur at any age, either by road, plane or at work. Additionally, mental illness and suicide are on the rise. These are other factors affecting young people of today.
We all know that you are there for your family in times of need. If tragedy hits your family having a legal Will can ease the grief and heartache at a time of extreme hardship.Please have a voice and make a Will. I'm doing this to help save another family go through what our family has had to endure.Don't assume anything as society has changed.
If you think you can help in anyway or would like to donate money, please contact me. Your support would be greatly appreciated.
Thank you,
Kay Catanzariti
Many thanks go to  Lions Club Australia, Dobija World, and Affordable Staff.  Without their sponsorship Will It Your Way wouldn't have been established as soon!